Thermoformed Clamshell packaging is one of the most popular types of packaging in the thermoforming food packaging industry, used globally to package anything from berries to burgers and salads to sandwiches … and a million other foodstuffs in between. When you're making a decision about your clamshell packaging design needs, you may find yourself facing a bewildering array of choices. Well, let us be your guide as we go through some of your options for choosing a thermoforming mold design for your clamshell packaging for food containers, and outline just how your choice of packaging product could result in differentiating your product from its competitors and give the end user an exceptional experience.
What is Clamshell Packaging for Food Service Industry?
As the name suggests, clamshell containers are a form of packaging that close just about as tight as the proverbial oceanbed clamshell. This type of container provides exceptional protection to food products during transit, ensuring your food product gets the best possible protection in the journey from packaging plant to the end user's kitchen table. For the clamshell container thermoforming mold we produce, our team has a strong capability of producing innovative thermoforming mold designs to the highest standards.

In the rest of this article we will give you an overview of our mold design ideas, including more details about the various elements of packaging design you need to be aware of before you make a final decision on the perfect thermoforming mold design for your needs.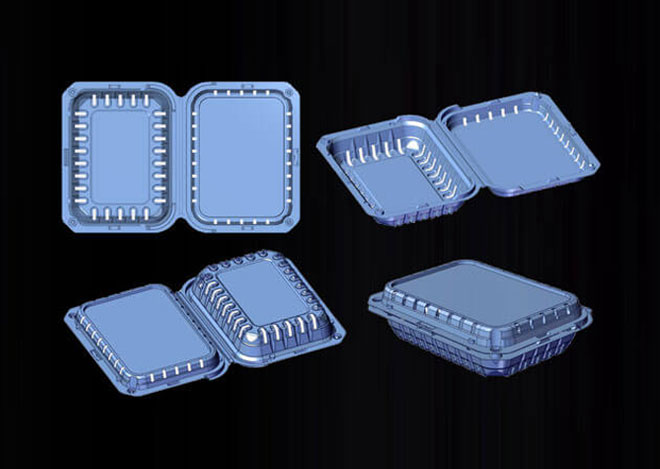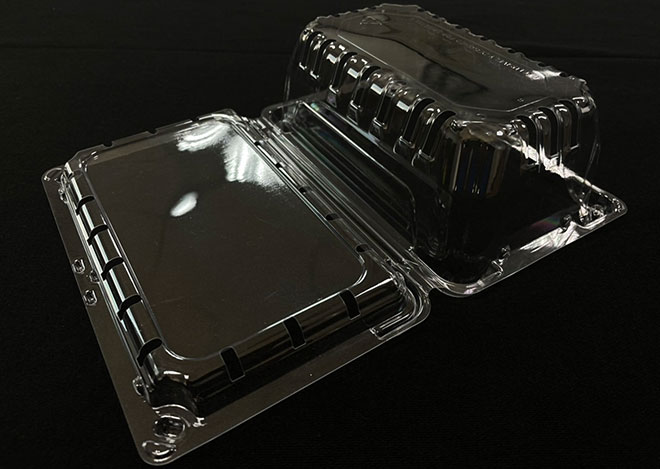 Hinged vs Non-Hinged Clamshell Packaging and Containers
When it comes to clamshell containers, there are two basic types: hinged and non-hinged containers.

When you are making a decision about your packaging requirements, your specific use case and budget resources will dictate whether you need a hinged or non-hinged version.

From the end customer's perspective, you will need to consider the type of foodstuffs the packaging will contain, how perishable those foodstuffs might be, and the ways in which your clamshell containers may be transported or displayed on the journey between packaging and purchase.

From your perspective, you will have several things to consider too.

For example, while hinged containers may win on convenience, the fact that they are a little more production-intensive — and therefore more expensive to produce at scale — may mean they are a little less suitable for your particular budget.

If variations in closure design is important to you, then the hinged option provides more options and flexibility.

The table below gives a brief overview of the differences in production process between hinged and non-hinged containers.
Types of Clamshell Containers
Non-hinged Clamshell Containers
Hinged Clamshell Containers'
(Base & lid)
QTY of Thermoforming Mold Required
2 thermoforming molds are required
Only 1 thermoforming mold are required
Clousre Design
Simple closure design
Various options of closure designs
Production Capability
Higher
Less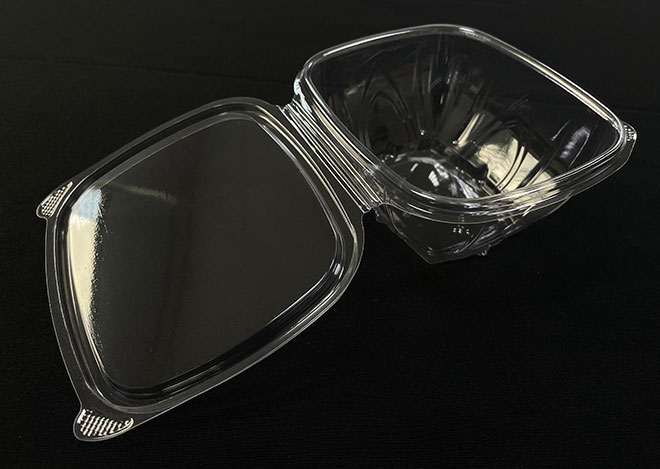 Innovative Design of Snap Buttons for Food Clamshell Packaging and Containers
From product design to brand marketing, you will already have considered all the many different ways of making your product stand out in the competitive global marketplace. And if you choose the hinged container option, there's no doubt that the versatility and flexibility of container closure styles gives you an extra opportunity to really differentiate your product from its neighbors on the shelves.

Something that many people might not consider, which can have a significant subliminal positive effect on the customer, is the shape and size of the snap button on your product container. This can help give your product the "Wow Factor" from the first time customers take your product home.

While non-hinged containers come with separate bottom and lid, hinged clamshell containers are designed with a variety of different closure styles and can give you the added advantage of extra product differentiation.

So-called "snap button locks" are one such element of clamshell container design which can really help your product stand out from the rest.

Snap button locks, which hold the clamshell closed, come in various sizes and shapes, including oval, triangular and rectangular.

The good news is that you have full capability to customize your snap button locks on your product at the mold design stage, and our team will be on hand to help you through that process to ensure that your final design meets your needs perfectly.
Examples of Different Snap Buttons Designs for Clamshell Packaging
Rectangle-shaped snap button locks

The button shape is designed as a rectangle and is usually on the front edge of the clamshell containers for easy opening and closing.




Triangular and oval-shaped snap button locks

The button shape is designed as a triangular or oval, and they are placed at the four corners of the clamshell containers.
There's a gap on the bottom cover which can be directly pulled to open.




Hook-shaped snap button locks

This is a special design for egg boxes and egg clamshells. A gap in the bottom cover so there is a space generated for eggs.



Design Embossing for Unique Clamshell Containers
The design phase for your product containers can also include design embossing, or what might be described as "bumps" on the container. This is something that you will bear in mind during the thermoforming mold design process, and which our team can advise you on also.

For example, the clamshell container closure experience will be different if the bump shape design changes or the angle of the barb. With different designs of barbs, such as different quantities, positions and angles, you could build different clamshell food containers.

Read also : Choose the Right Cutting Dies and Tools for Thermoforming Machine
Talk to Our Team
If you have any further questions about clamshell food containers, plastic cups, and the different options for thermoform mold design, please get in touch with our team today and we will be pleased to assist you. If you want to know more about these and our other products, please check the link below.Clamshell Mold