Thermoforming is a prevalent manufacturing process utilized across a variety of plastic disposable cup applications for full-scale designs and shorter production runs. The process involves a tool or molds. Starting with film heating, product forming, tool cooling, through stacking with downstream automated carton packaging. The
thermoforming cup mold
is precisely machined to form, punch, cut, trim and stack the features of the desired cups. The precision designed cup thermoforming tool or mold, with maximized mold layout, is critical to optimize the product output and reduce scrap rate while offering high-speed and precise cutting tolerance during thermoforming cup mass production.
Types of Thermoforming Tools for Cups
The most common type of forming tools used for plastic disposable cups is In-Mold Cutting. It is also known as Cut in place molds or trim in place molds - integrating forming and cutting (or trimming) into a single station. Using cut in molds, you not only achieve accuracy in the cutting alignment, but also enhance stability for each cup weight. Besides plastic disposable cups, dairy containers also require close cutting tolerances, high product quality and fully automated processes.
Stacking Solutions - Common Cup Catching and Taking Plates
Cup Catching (or collection) plates are different for each plastic cup thermoforming machine. The following are the most common stacking solutions for forming cups.
Vertical collection

:Vertically stacked, counted and placed.
Tilting/Reverse collection (Tilt Mold or Tilt Bed Tooling)

:It connects perfectly with cup taking units for automatic cup stacking and counting.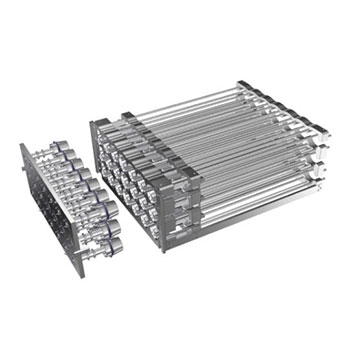 How to Select the Best Fit Thermoforming Mold for Cups - 2 Tips
Hongzu specializes in in-mold cutting thermoforming tooling technology for machinery makers such as ILLIG, WM, KIEFEL, GABLER, AMUT and many more. At Hongzu, we understand the unique benefits offered by different types of thermoforming machines. To help you achieve high efficient cup production, our experienced team identified
2 tips
when selecting cup forming molds to fit your needs.
Full service capabilities

An ideal thermoforming mold maker who offers full-service capabilities, from product development, thermoforming mold development, mold manufacturing to test running, is vital to your cup production. Having a trustworthy partner with the necessary all-round knowledge will ensure that your company will get consistent support every step of the way.



Experience on diverse projects

Cup collecting system can be different from those common-cup thermoforming machines in the market. Each of them has different benefits and challenges. You may need to design multi-cavity in a mold to meet different requirements of cup volume. Having a mold maker with abundant experiences of cup projects will definitely shorten the development process and accelerate the product launch.

Case Studies of Industrial Cup Forming Molds
Over 35 years of experience in plastic mold designs and manufacturing for cup thermoformers, HongZu molds can produce cups which are round or rectangular, with wrap round edge, sealing edge or rimmed. Here are two examples showing in-mold Cutting for a plastic cup thermoforming Machine.
Examples 1
Mold type : In-Mold Cutting
Cup collection : Tilt Mold Technology
Examples 2
Mold type : In-Mold Cutting
Cup collection : Vertical collection
Cup Thermoforming Mold Manufacturer
HongZu started out as a small mold maker in 1987 and have evolved into a major player and expert in thermoforming tools for the food packaging industry. We provide precision, high quality molds to customers worldwide. Our tools are very adaptable and able to incorporate almost any of the thermoforming machines on the market. We understand our customer's needs and develop the right molds from the beginning of the project to the end.The various kinds of Round Cups Molds designed and manufactured by us are :
Thermoforming Tools for Yogurt Cup

Thermoforming Tools for Dairy Cup

Thermoforming Tools for Juice Cup

Thermoforming Tools for Deli Cup

Thermoforming Tools for Tea Cup

Thermoforming Tools for Coffee Cup

Thermoforming Tools for Ice-cream Cup
For more
Food Packaging Molds
, please
contact us
today.
If you want to know more about these and our other products, please check the link below. Thermoforming Mold
To keep updated about the latest news from the Hong Zu, please follow us on our Social Media Channels :